Moving Masters: Your Premier Choice Movers In Adelaide – Better, Reliable, and Top-Rated Adelaide Removalists Company
To make your relocation perfect and easy, Moving Masters has the best plan for your moving needs in Adelaide and its suburbs. We are here for both local removals and interstate removals. We have house removalists, piano removalists, pool table removalists, and office removalists. Our company has been the best Movers Adelaide service provider as we can safely move businesses and families to their new destinations.
You can truly trust our Removalists Adelaide experts to safely pack and move your all belongings. Moving Masters is backed up by an expert team of Removalists and Movers. We value your time and belongings. Our team always provides quick, affordable, and high-quality packers and movers service overall maintaining the status of being a top-rated Adelaide removalists company.
Get A Free Estimate Now!!
Ready to Make Your Move Masterful? Contact Movers Adelaide Today for a Smooth and Stress-Free Moving Experience!
Let our professional local Adelaide movers and removalists team assist you with a smooth move. So, when you are searching for the best moving company in Adelaide, call us unhesitantly. We are available 24 by 7 for bookings.
Quick and Efficient Service: We Can Handle All Moves Safely
Our team's efficiency and ability to handle same-day moves is famous all over Adelaide. We have a swift-moving process that minimises downtime and makes all kinds of removals super easy. Our Movers Adelaide services include the following:
Affordable Pricing: Unmatchable Services Available For All Regions in Adelaide
When you decide to make a move with Moving Masters, you not only get affordable rates but also high-quality service. As relocating requires many things, our truck removalists offer a wide range of services in all regions of Adelaide. Due to our large and experienced local removalist team, we can proudly say that each of our services is of high quality though being affordable to all. On appointing our complete removalists, you not only get in-budget removalists but also high-grade & cheap removals. For the latest updates and Movers Adelaide price offers, you can get in touch with us.
Quality Packing Services: Our Meticulous Packing Services
We are here to ensure the safe and secure transport of items. For that, we use high-quality packing materials and techniques. By using quality packing methods and materials, we remove the breakage risks.
We use a variety of materials and supplies for packing goods safely when relocating. These essentials include sturdy cardboard boxes of various sizes to accommodate different items, such as books, clothing, and fragile items. We do have the best furniture wrapping for moving. Additionally, bubble wrap or packing paper is essential for cushioning delicate belongings, and preventing damage during transit. To secure and seal the boxes, strong packing tape is indispensable, ensuring the contents remain intact during the relocation process. These packing materials are vital for a smooth and secure removalist Adelaide experience.
Our Movers Adelaide Process That Suits Everyone's Needs
Our removal process is completely customer-oriented which not only makes them comfortable but also provides a sense of responsibility. Each packing and moving service includes the following steps:
01
Inspection and Preparation for packing
We visit your given address on the same day and start the inspection process. After inspecting your needs and your things move, we start preparing for packing and make sure it covers everything you need.
02
Packaging
After inspection, we start packing your things up. We use heavy-duty cartons and tape to make sure each of your valuable items moves to a new place safely with professional packing service experts.
03
Best Route And Transport for the Move
After packing your stuff, we look for the best route to go. We only choose routes that are not just the fastest but also less bumpy. Based on your things to move, we choose the transport. We have cheap interstate removal options available.
04
Unpackaging at the delivery point
After successfully moving your belongings to the given place, we start unpacking your stuff as we need to make sure that no damage is done to your things. However, you can also do this yourself.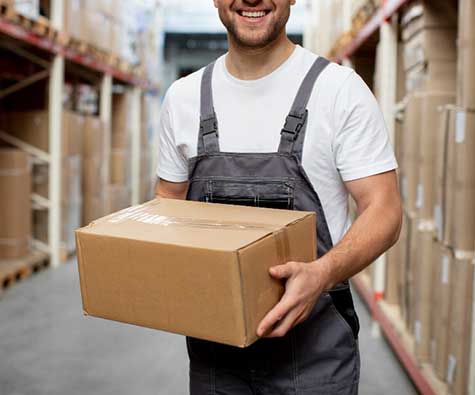 The Security of Your Goods: We Ensure All Ways
We are committed to easing the office and home removal by offering security of your goods and assistance for everything- ranging from packing your belongings, managing storage facilities (if needed), unloading belongings at the desired destination, and installing the items in your new home or offices.
We prioritize the utmost care and diligence when it comes to ensuring the security of your valuable goods during relocation. Our comprehensive security measures encompass state-of-the-art packing materials, expert handling, and meticulous inventory tracking. Additionally, we offer optional insurance coverage to provide an extra layer of protection, giving you peace of mind throughout the entire moving process. Your possessions are as important to us as they are to you, and we're committed to safeguarding them at every step of the journey.
Safe Unloading and Setup: Finish Your Move Safely
Our dedicated team of Best Removalists Adelaide goes above and beyond to guarantee a seamless and secure transition for your belongings. We take every precaution to protect your items, from delicate valuables to bulky furniture. Our experienced team handles your possessions with the utmost care, using specialized equipment and techniques to ensure they arrive in the same condition as when they left.
Before unloading, we meticulously plan the setup, considering the layout and design of your new space to optimize the arrangement of your belongings. Our experts use efficient and safe unloading methods, ensuring that heavy items are handled with precision and placed where they belong. If required, we offer assembly and setup services for furniture and appliances, ensuring they are ready for use in your new location. Your satisfaction and the safety of your belongings are our top priorities.
Dedicated to All Adelaide Suburbs: Call Us From Anywhere In Adelaide
We provide hassle-free services for moving homes and several items in Adelaide and all suburbs. Our areas include Glenelg, Morphett Vale, Modbury, Darwin, Mount Barker, Campbelltown, Seaford to Malvern, and many more. We cover all local-level and interstate moves. If you require fast and trustworthy removal, we are the best to choose in Adelaide. So, be ready for stress-free moves and schedule an appointment today!
Ready to Make Your Move Masterful? Contact Us Today Our Adelaide Movers Are 24*7 Ready
Let our professional local Adelaide movers and removalists team assist you with a smooth move. So, when you are searching for the best moving company in Adelaide, call us unhesitantly. We are available 24 by 7 for bookings.
Testimonials
From Happy
Customers
Moving Masters provided excellent service from start to finish. Their communication was clear, and they kept us informed throughout the process. The movers were courteous and efficient, making our move a pleasant experience.
– Kim Garth
We used Moving Masters for our office relocation in Adelaide, and they exceeded our expectations. They disassembled, transported, and reassembled our office furniture with minimal disruption to our business. Truly impressive!
– Davies
I had a last-minute move, and Moving Masters came to the rescue. They were able to accommodate my schedule, and their quick response and efficiency were a lifesaver. I'm grateful for their exceptional service.
– Ben Heath
Why Choose Moving Masters?
Local Adelaide company: We are local players and we play at our finest. Our team is full of professional removalists who live in Adelaide and have at least 5 years of moving experience giving you a sense of security and belongingness.
Same-day service: Once you book our service, we visit your house and make a move with your property on the same day. To make sure we make your relocating experience better, we have been working tirelessly for many years.
Budget-friendly option: Defying the odds, we have been able to provide you with reliable and quality service without being too expensive. Our moving services are the best and there are no hidden fees too.
Secure moving: We run background checks on each of our removalists in Adelaide before assigning them any task. You can trust us with your property due to our strict background check policy.
Moving always on time: We know that you don't want to wait for your delivery to arrive and that's why we deliver your things on time. So, be ready for stress-free moves and schedule an appointment today!
Discovering Adelaide and Its Lifestyle
Moving Masters, a reputable company based in Adelaide and its surrounding suburbs offers a unique lifestyle opportunity for both residents and employees. Adelaide, known as the "City of Churches," boasts a remarkable blend of natural beauty and urban convenience.
With a Mediterranean climate, the region experiences mild winters and warm, sunny summers, making it an ideal place to call home. The city offers a relaxed yet vibrant lifestyle, with numerous parks, gardens, and pristine beaches that cater to outdoor enthusiasts. Its world-class wineries, rich cultural heritage, and thriving food scene contribute to an enjoyable and culturally diverse lifestyle.
For employees of Moving Masters, this location means the chance to live and work in a city that values work-life balance, all while enjoying the beauty of South Australia's capital and the benefits of a well-rounded, fulfilling lifestyle.
What's the Price of Hiring Removalists in Adelaide?
Precisely we are proud of being one of the most affordable and timely removal companies in Adelaide. Our Removalists & Movers Adelaide services are delivered on time and within budget for each and every job. We charge $55 per hour.
Our transparent pricing model ensures that you receive a fair and competitive estimate for your relocation needs. We understand that every move is unique, and our charges are based on various factors such as distance, the volume of items, and any additional services you may require.
Frequently Asked Questions (FAQs)
To receive a moving quote from Moving Masters in Adelaide, fill out the online quote request form. Provide us with essential details about your move, such as your current and new address, the size of your belongings, and any special requirements. We'll promptly get back to you with a customized and competitive moving quote.
At Moving Masters, we understand that sometimes moving needs to happen quickly. While we strive to accommodate urgent requests, our same-day availability may vary depending on our schedule. Feel free to reach out to us, and we'll do our best to assist you with your last-minute moving needs.
Moving Masters offers a range of additional services to make your move as smooth as possible. We provide professional packing services, ensuring your belongings are securely packed and ready for transit. We also offer furniture assembly and disassembly services, making the setup of your new home hassle-free.
Moving Masters proudly serves Adelaide and its surrounding suburbs. Whether you're moving within the city or to a nearby suburb, our experienced team is here to assist you. Contact us to discuss your specific location, and we'll make sure your move is handled with care and efficiency.
Yes, your property is fully insured during the move with Moving Masters. We take every precaution to ensure the safety of your belongings. In the rare event of an unforeseen incident, our insurance coverage provides added peace of mind, ensuring that your possessions are protected throughout the moving process.
To prepare for the arrival of our dedicated moving team, make sure your belongings are organized and ready for packing and loading. Disconnect and prepare appliances and electronics, label boxes clearly, and ensure pathways are clear for efficient loading. If you've booked our packing service, you can leave the packing to us, and we'll take care of everything.
If you require storage solutions as part of your move, Moving Masters has you covered. We offer secure and convenient storage options to accommodate your needs. Whether you need short-term or long-term storage, our facilities are equipped to safeguard your belongings until you're ready to move them to your new location. Contact us to discuss your storage requirements and integrate them into your moving plan.